© Jan Gabrielsson
for the photo at left
(from 1964). The one at right is a selfie from 2009.

© Per A.J. Andersson for the text. Written September 2005, updated January 2018.

About Me
Who is the compiler of this list of lists, you might ask?

Well, I was born in and am still living in Sweden, up in in the north of Europe. I enjoy life here in Göteborg, a mid-sized town facing the Kattegat.

I was born in 1963, which may explain some of my likes and loves regarding favourite films (anime I've watched are here) or artists. Being brought up on a farm, I know how to milk a cow.

Nowadays I work mostly as a proof-reader of crosswords and a translator (mostly from French). Here's a professional resumé.

As a bachelor I find time to indulge myself in the following things...

- geography and history (as far away in time and place as possible!)
- languages (I don't travel much, but I keep a collection of dictionaries…)
- Macintosh
- sports (watching it on TV, playing table tennis and more)
- mushrooms (finding a new type of mushroom out in the woods is always a thrill)
- desserts (like my father was, I take a liking to sweet stuff, pudding and the like)
- photography (you never know when you'll feel sorry you left your camera at home)
- being around friends and relatives (eating food, talking, watching films)
- FrukostAnime (local club dedicated to anime, est. 2004)
- Wikipedia (the wide world of information, finally getting a nice place to start at)
- Facebook (use with care)

You live as long as you remain curious!

//Per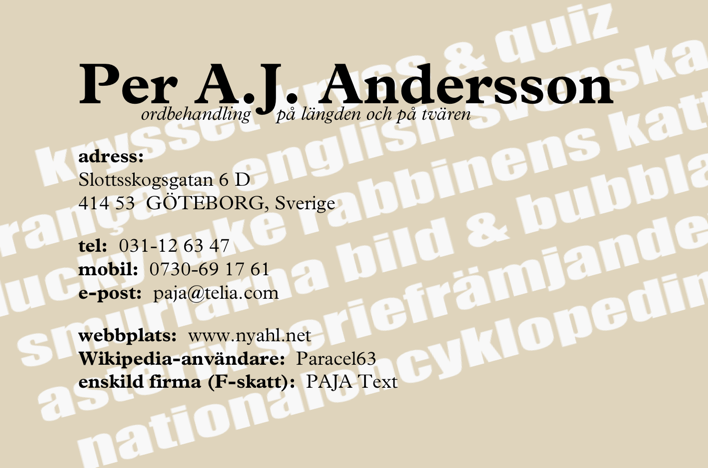 MYSTERIES STILL FEEDING
MY CURIOSITY

• Will I ever find out if "Häxkonstaplarna" really exists?

• Is Evil a relative thing, and where lies its connection to the notion of Free Will?

• Can I ever learn to grow plants properly?

• Did La Pérouse really arrive at Botany Bay on the same day as James Cook?